The "Enhanced Folding Text Editor 2" (eFTE2 or eFTE/2) is a feature-packed text editor with syntax highlighting available both in PM and VIO versions for OS/2-based systems, and also for Win32 and Linux.
Screenshots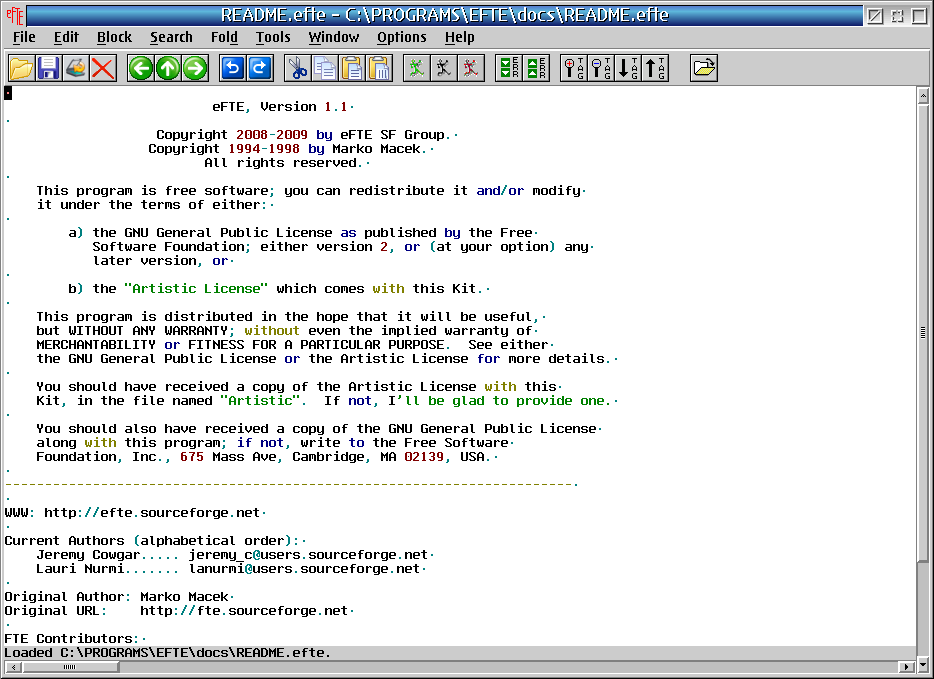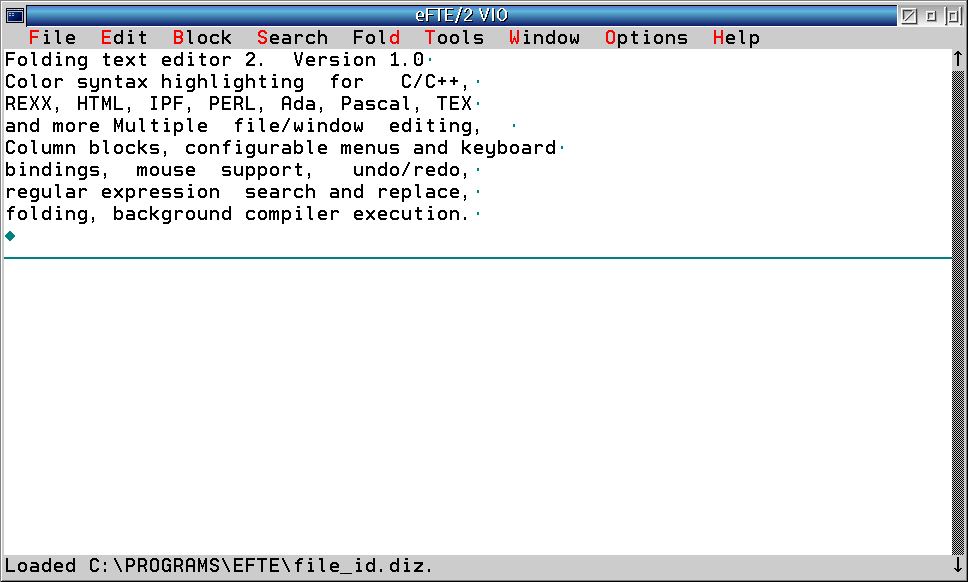 Current Release
Component
Package
Version
Description
eFTE/2 Installer

​

WPI
1.0.0
Stable version, WPI format
License
Open source under the GNU GPL license or the Artistic License.
Acknowledgments
If anyone was left out, it was unintentional. Please drop a note at the mailing lists.
Current Author
Earlier Authors
Marko Macek
Michael Greene
Jeremy Cowgar
Lauri Nurmi
Timo Sirainen
Contributors
F.Jalvingh
Markus F.X.J. Oberhumer
Martin Frydl
S.Pinigin
Zednek Kabelac
Don Mahurin
Lothar Schmidt
Michael DeBusk
Timo Maier
Direct Contributors to eFTE2
John Small (much of the WarpIN packaging code)
Steven Levine (eCS/OS2/ArcaOS HOME support and problem solving assistance)
Alfredo Fernández Díaz (documentation & testing)
Lewis Rosenthal (testing)
Mailing Lists
As of November, 2017, two mailing lists have been created for eFTE2: one for users, and one for developers.
To subscribe to the developer list:
To subscribe to the user list:
Send email to: efte-user-on AT 2rosenthals DOT com and reply to the confirmation email.
Send email to: efte-dev-on AT 2rosenthals DOT com and reply to the confirmation email.
Web archives of lists are available here:
Tips and reviews (links)
Previous incarnations
For a complete list of local wiki pages, see TitleIndex.
Attachments
(3)
Download all attachments as: .zip